WebMax Web Break Detection System
WebMax Web Break Detection System
WebMax Web Break Detection System
Sign Up Here
Product Information Files Available to Download
Installation Information
WebMax Sensor Setup
WebMax Mounting with IMBC
WebMax Mounting with MBL
WebMax Sensor Wire Diagram
Parts & Upgrades
WebMax 1500 Manual
3.1 WebMax Spare Parts List
WebMax to Quad Tech Sensor Reference Sheet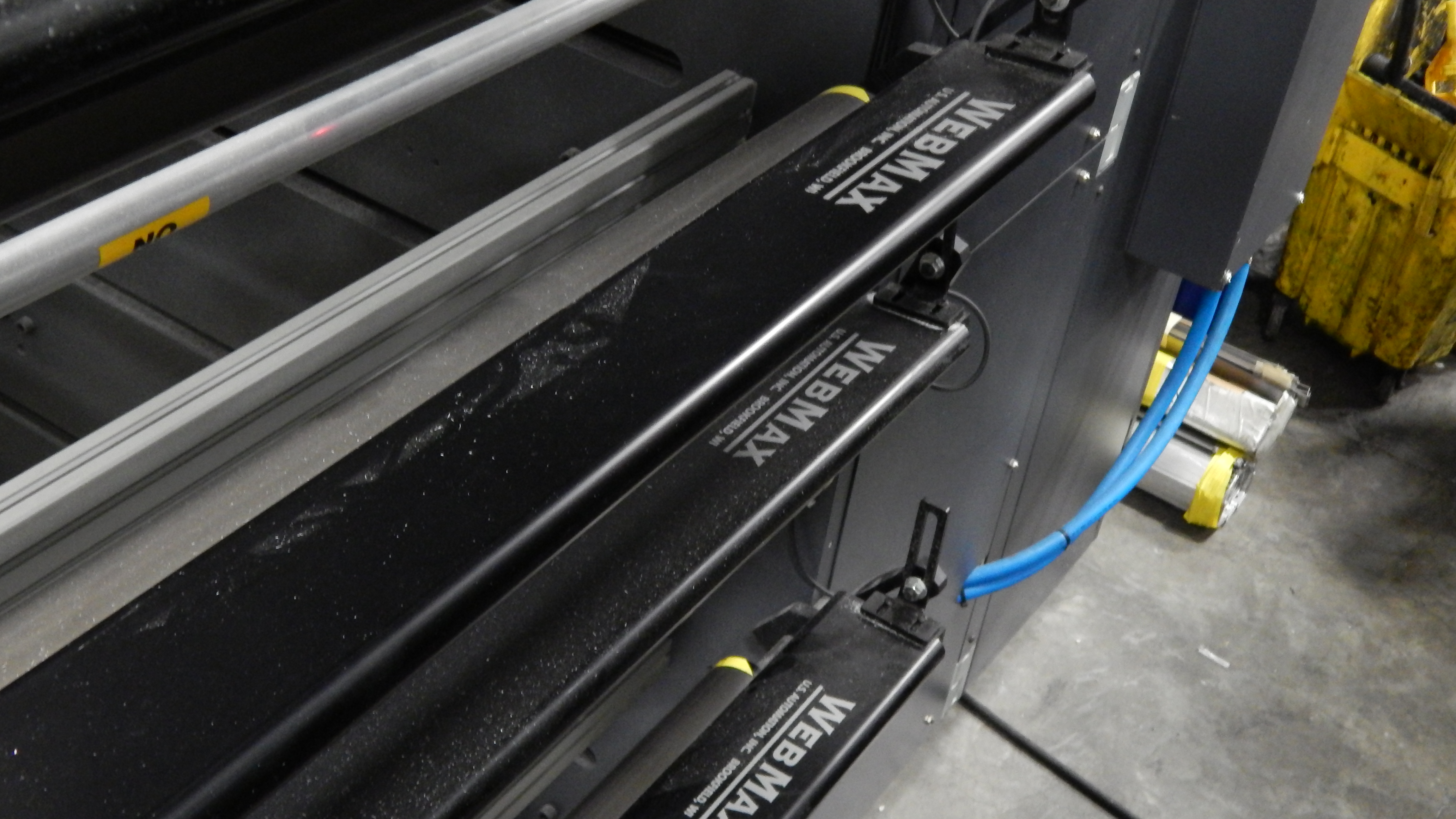 U.S. Automation has been protecting presses around the world from web breaks for over a decade.
The WebMax system is designed to operate as a reliable web break detection system. It instantly detects web breaks, simultaneously stops press operation and fires web severers before costly web wrap-up damage can occur. The WebMax system can store up to 36 user-created "jobs", this allows the system to be instantly re-configured for different press runs.
WebMax uses high-quality ultrasonic sensors which quickly monitors web movement and detects web breaks as soon as they occur. The use of ultrasonic sensors eliminates many common causes of false triggering, unlike photosensors. A built-in time delay further eliminates false triggers from slime holes or web flutter. Up to 60 ultrasonic sensors can be installed with each WebMax system and up to four sensors can be installed in each sensor bar.
Sensor locations within the bars can be adjusted for optimum sensing positions. Sensor bars can be mounted where desired, using either existing press frames or idler shafts.
The WebMax controls package consists of a color touch-screen interface, PLC controller, power supply, and I/O relays. The PLC controller accepts arming inputs from the press controller and enables web break detection automatically. Redundant proximity sensors are utilized to verify press arming signals. If press arming and proximity sensor signals conflict, the WebMax system stops press operation for safety reasons. The touch-screen operator interface provides all operator control functions from the main menu screen. Screens are available for live system status, sensor arming, job setups, review fault messages, etc. If a web break occurs, the WebMax system graphically displays the location of the break and prompts for user intervention.
The WebMax system uses all high-quality durable components and will provide many years of reliable operation. Let us provide you with an effective, reliable solution to protect your presses from web break damage.
When you need the best, forget about the rest. Put WebMax to the test!
Specifications & Performance
SYSTEM POWER REQUIREMENTS
120/230 Volts @ 15 Amps Single Phase
SYSTEM CONTROLLER
Type: PLC
Inputs

Press Arming Signals: 2
Line Shaft Proximity Sensor: 2
Sensor Inputs
DeviceNet: 60 Maximum
Non-DeviceNet: 14 Maximum

Outputs

Press Stop (Run Permit): 2
Severer Firing Signals: 12
OPERATOR INTERFACE
Type: Color Touch Screen
Size: 6-inch
USER PROGRAM
Maximum Saveable Jobs: 36
Password Protected User Access
Fault History
SENSORS
Type: Ultrasonic
Supply Voltage: 24 @ 50mA (no output load)
Sensing Range: 5-inches (max.)
Outputs: PNP, NPN, or DeviceNet
Response Time: 3ms (28ms total with delay)
Indicators: Power & Detect Status LEDs
SENSOR BARS
Max Width: 90 Inches (2286mm)
Max. Sensors per Bar: 4
Mounting Hardware Options:
CONTROL SUB-PANEL
Overall Dimensions: W 22″ x L 22″ x D 6.5″
560mm x 560mm x 165mm
Hole Mount Centers: 21.2" x 21.2" (538x538mm)
OTHER
Durable chemical-resistant sensor cables
Operator Interface and control subpanel can be mounted any distance apart.
With non-DeviceNet configurations, more sensors can be added by special order.